AdviserNETgain helps you keep your eyes on the things that matter most to you
AdviserNETgain is the next generation of business solutions for advisers. It helps you keep your eyes on the things that matter most to you, like growing your clients' wealth.
AdviserNETgain combines client, practice and advice management processes into one easy-to-use system with single data entry that integrates your front and back office.
AdviserNETgain online demonstration
Thank you for your interest in seeing for yourself how AdviserNETgain will transform the way you run your business by streamlining the advice process to save you a considerable amount of time and increase your business efficiency.
Accessing the demonstration
To access the demonstration, you can choose to:
view the demonstration now (red button) or
download the demonstration to view later (grey button). We recommend you choose this option if you intend on viewing the demonstration more than once.
Once you've selected your option, the demonstration will launch into a new window. Depending on your internet connection, the demonstration may take a few seconds to load.
Navigating around the demonstration
At the bottom of the screen you will find a navigation control panel which you can use to stop, pause, rewind or go-forward during the demonstration.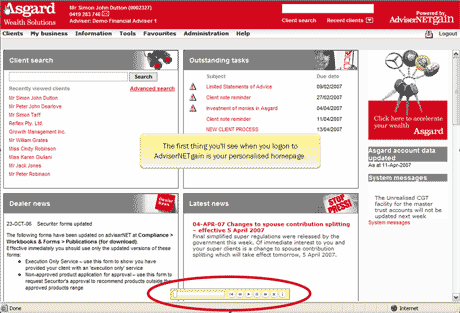 Read more about AdviserNETgain.
Would you like to know more?
If you have any questions, just call 1800 066 839 to arrange a meeting with us.
© Asgard Capital Management Ltd ABN 92 009 279 592 Australian Financial Services Licence No. 240695. Please read the Privacy brochure for more information.