SharePort - our new online trading platform
SharePort has been tailor-made to reduce the time you spend on shares administration. With comprehensive market data, full client trading histories and seamless integration with AdviserNET and AdviserNETgain – it makes shares in eWRAP Investment easy.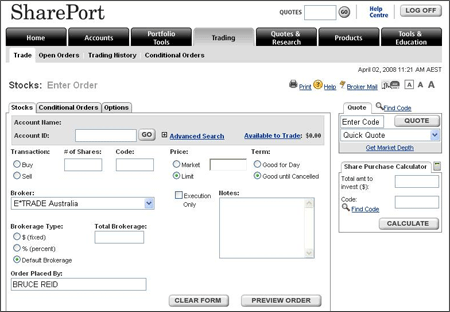 Click to view the demo
Easy account management
Quickly find clients and review their share trading information including:
portfolio balances
account positions
full trading history of all E*TRADE and panel broker trades.
Improved trading
We've added new features that enhance trading and help you to manage your clients' cashflow:
No buffer required when placing an At Market order online
Up-front pledging and vetting will give you peace of mind that trades won't fail settlement
Intra-day trading will reduce the time out of the market if you're using the proceeds of a sale to buy another stock
Greater visibility on unsettled amounts makes it easy to manage cash/stock position
Broker mail to keep you informed of order placement and acceptance.
Portfolio management tools
You can access real-time updates of your positions, monitor the market using watchlists and compare client portfolios against industry sectors.
Online research
SharePort also has an excellent range of market information to help with decision making. The depth of information available will increase your confidence in advising clients and allow you to respond to the market quickly:
Research and recommendations from leading independent research houses
Tips from industry experts
Real-time ASX company announcements
Daily market reports
Real-time prices and market depth.
Click here for a sneak peek on how SharePort will make shares easy for you.