Market volatility and your investments
1. Why have my investments fallen in value?
Most peoples' investments have been negatively affected by the downturn in the markets - it may be cold comfort - but you're not alone.
The initial sub-prime mortgage crisis in the US has caused what is being called a global credit crunch.
As a result of the credit crunch, the lack of the availability of credit is causing economic growth around the world to slow quite sharply. Perhaps more importantly, the global banking system faces its own crisis of confidence and as a result, governments are being forced to step in, guaranteeing deposits, flooding the money markets with cash and buying up assets to relieve the pressure in the financial markets.
This has caused the Australian sharemarket to drop 38.4% over the twelve months to 31 December 2008 – one of the worst years on record. While this means that the three-year investment return is negative 3.90%, over five years the return is a positive 6.89%.

Source: S&P/ASX200 Accumulation Index as at 31 December 2008, Investment Solutions, Bloomberg.
Read more about market volatility and its effect on Australia.
If you're still unsure of your investment strategy, the best course of action is to meet with your financial adviser to discuss how current market volatility affects your specific situation and goals.

2. Do you think I should switch to cash or change my investment strategy?
It is important you think about your needs first and the market second.
If you initially invested with a time horizon that extends over five years, selling out now will crystallise your losses. While selling now may make you feel more comfortable because you won't be exposed to any further downturns, it also means you won't benefit from any increase when the market recovers.
To put this long term argument in perspective consider the facts from previous significant market downturns:
The market took six years to recover from the 1987 crash (previously the worst fall in the past 30 odd years)
It took just over a year for the market to gain back the losses recorded after the 1994 bond crisis
The post 9/11 instability and the Iraq invasion at the start of the decade lasted nearly three years - but was followed by a boom that saw Australian shares rise by around 141%.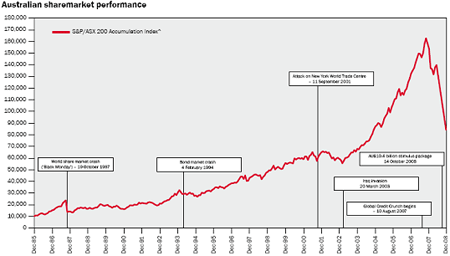 Source: Investment Solutions, Bloomberg. * The S&P/ASX Accumulation Index was introduced in May 1992, prior to this the ASX All Ordinaries Accumulation Index was used. This chart is based on an initial investment of $10,000 in each index as at 1 December 1985.
Ultimately, only a financial adviser is qualified to provide you with advice on whether to buy, sell or hold your investments. They can assess your overall position, review your risk profile and help you look at alternatives to cashing in all your investments at current low prices.

3. I'm finding current market volatility very stressful. What should I do?
If you're concerned about the impact this current economic crisis is having on your own personal investments, you're not alone. By historical standards this is a very severe global economic crisis. However there are positive local factors you should consider when reviewing your investments:
The Australian financial regulatory system is now being heralded as the optimal model for developed nations.
Crucially, the banking sector is very strong, thanks to the level of regulation in existence. All our major banks are highly profitable and of the 20'AA' rated banks in the world, four are here in Australia.
We have low unemployment (4.4%¹), a big government surplus and inflation is under control
If you are still anxious about current market conditions, speak to your financial adviser to check that your current investment strategy still suits your risk profile, your goals and your current situation.
¹Source: Investment Solutions as at 30 November 2008

4. Is the sharemarket still a good investment?
If the recent falls means your portfolio is no longer able to meet your financial objectives, such as providing retirement income or building wealth to pass on to your family, it makes sense to review your portfolio with your financial adviser and look at alternatives to the sharemarket.
However if you're focusing on long-term growth, think carefully before selling out of your current investments. History has shown that growth assets like shares and property outperform cash over the medium to long term. In fact, over the last 20 years, cash has only outperformed other asset classes once.
View example of $10,000 invested as cash in the bank versus investing your money in the stockmarket.
Investing in the sharemarket is still an effective long-term investment strategy. In fact, if you can handle current levels of volatility, or have additional cash to invest, now may even be the time to take advantage of the cheap asset prices and invest more money!

5. Is there anything I can do to protect myself against the market downturn?
There are a range of strategies that can reduce your exposure to market volatility and 'smooth out' your returns over the long-term.

6. I'm invested in conservative/balanced funds, why have my investments fallen?
'Balanced' means your fund is invested across a range of asset classes (Australian and international shares, property, fixed interest and cash). Most asset classes have experienced negative results over the past 12 to 18 months.
The table below shows that 'balanced' funds have fared better than 'growth' funds because they have less exposure to assets like shares and property.
View more information on the short and long-term results of growth and balanced funds by downloading the IFSA & Morningstar Research flyer.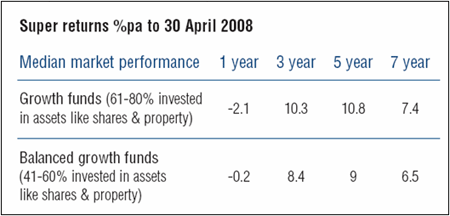 Source: Investment and Financial Services Association (IFSA) & Morningstar Research June 2008 flyer
If you're still concerned about your current investment strategy you should speak to your financial adviser.

7. Why am I paying fees when my returns are negative?
Regardless of returns, each fund manager is still managing the fund in line with its investment strategy. In fact, in times of volatility it's in your best interest to have experts making decisions about which companies to invest in to help achieve the best possible returns for you, the investor. Fees paid to fund managers are generally based on the value of your investment, not investment returns.
There are also administration fees that cover the day-to-day running of your account and cover things like transaction processing and reporting.

8. Is super still a good investment option?
Generally, your super will be invested over at least 20 or 30 years. This means your investments have sufficient time to 'ride out' the ups and downs of stockmarket cycles.
Compare a (superannuation) investment of $10,000 in the sharemarket to the same amount in cash over the past 20 years. If you had invested in the sharemarket, your investment would now be worth $57,400¹. If you had invested the same amount in cash, the return would only be $41,150². Take a closer look at saving versus investing.
Superannuation is a long-term investment option that helps you save for the lifestyle you want for your retirement.
Allowing a short-term volatility to influence your long-term investment strategy could be a costly mistake. If you're about to retire or currently live off your investment capital, now is the time to consult your adviser. They can assess your overall position, review your risk profile ensure that you're comfortable with the plans you have in place.
¹Based on All Ords Accumulation Index
²Based on the UBS Warburg Australian Bank Bill Price Index.


9. How much has the Australian sharemarket gone down?
Over the past 12 months to 31 December 2008, markets have fallen 38.44%¹.
Despite the falls in the Australian sharemarket over the last 12 months, share prices are still up 23.8%² since the beginning of 2003, to 31 December 2008.
¹Source: S&P/ASX200 Accumulation Index, Investment Solutions, Bloomberg
²Source: S&P/ASX 200 Price Index, Investment Solutions, Bloomberg

10. I'm about to reach retirement and have already lost money. What are my options?
Only a financial adviser is qualified to provide you with advice about your retirement strategy. You should contact your financial adviser who will be happy to discuss your investment options. Together, you can review your risk profile, your original financial plan and, if necessary, also review your investment options to ensure you are comfortable with the plans you have in place.
If you don't have a financial adviser, we can help you find one.
Alternatively, you can read a range of material available on the Financial Planning website www.fpa.asn.au.
You can find more information about market volatility and investing on www.fido.com.au

11. What's the best course of action in times like these?
Before you make any changes to your investment strategy, it's important to remember that this isn't the first time markets have experienced a downturn or crisis. Consider your investment strategy and long-term goals before you react to these developments.
If you're still concerned, speak to your financial adviser.

12. How long is market volatility expected to continue?
It is widely speculated that this volatility will continue throughout at leat the beginning of 2009.
Experts talk about 'bull' and 'bear' markets. A 'bull' market is a long period in which investment markets rise faster than their historical average. Bull markets can happen as a result of an economic recovery, an economic boom, or positive investor sentiment. A 'bear' market is when investment markets drop, accompanied by widespread pessimism.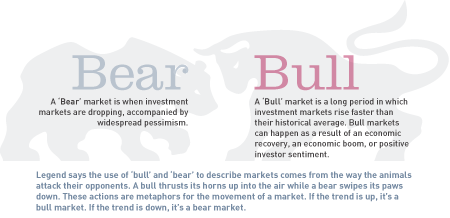 It's good to know that the average bull market is a lot longer than a bear market:

Average bull market duration is 42 months
Average bear market duration is 15.0 months
Average annual bull market return is 27.5%
Average annual bear market return is -31.1%